* Lessons * Pony Parties * Events *
* Trail Rides * Training *Boarding*
Scheduling by Phone Only.
For questions or to make an appointment call:
Bev Foltz
540-336-4267
Lessons
Lessons will be provided at the level of readiness of the student. We have ponies and horses to accommodate all sizes and ages beginning at 4 years old. We will be teaching from beginner to intermediate in the disciplines of Western Hunter/Jumper, Dressage, & Trail riding.
Our lesson program is well rounded and provides a holistic approach to horses and human relationships. Learning to ride is only part of the horse experience and we believe that to be well rounded and have the full experience of horses that students should also learn caring for the horse, grooming, feeding, ground handling, tacking, etc.
Our facilities include a 60' round pen for the absolute beginner to become comfortable and confident on and around a horse. The next step is our full size arena which provides an opportunity for more active riding skills to be practiced including but not limited to jumps, barrels, poles, obstacles, etc.
The trails on Magic Mountain really are magic and the students love to take advantage of a fun and pleasant ride, sometimes as a trail lesson or after part of a regular lesson. Basic lessons start at $40.
| | | | | | | |
| --- | --- | --- | --- | --- | --- | --- |
| | | | Pony Parties | | | |
Pony parties are fun for all, children and parents alike! Ride on gentle and sweet spirited horses and ponies or take a ride in the hay wagon. We also play games that are geared to the age of the children. We have a wonderful tack room that is decorated for the horse lover and has tables and chairs where you can enjoy your refreshments...it has a front and back porch with seating and also provides a good vantage point to watch the children have fun and take plenty of pictures.

Parties can be tailored to suit your needs. They can be birthday parties, theme parties, Christmas parties or a party for most any occasion you can think of...you might want to have a party just to have a party! We can also give parties for adults and family get together's. Give us a call and let us help you to plan your next party.
Our basic party that is held on the farm consists of:
2 hours use of the facility
2 ponies for the children to ride
Hay wagon rides
Treasure Hunt game
The cost is only $300 and everyone has a wonderful time.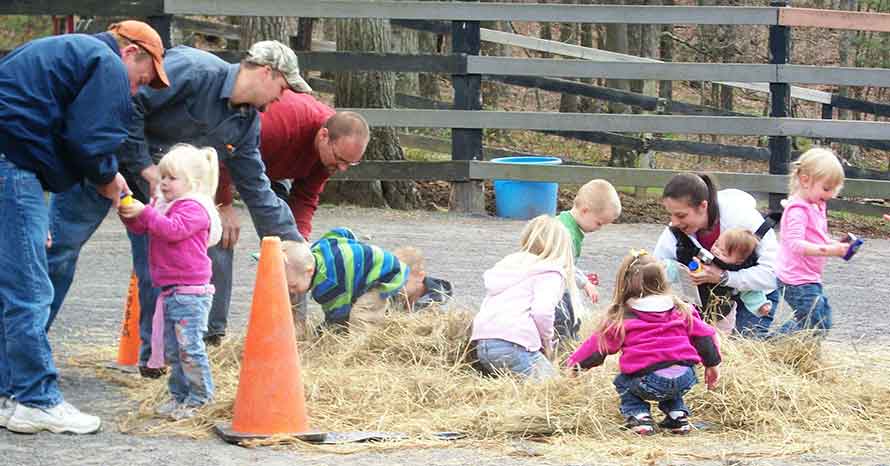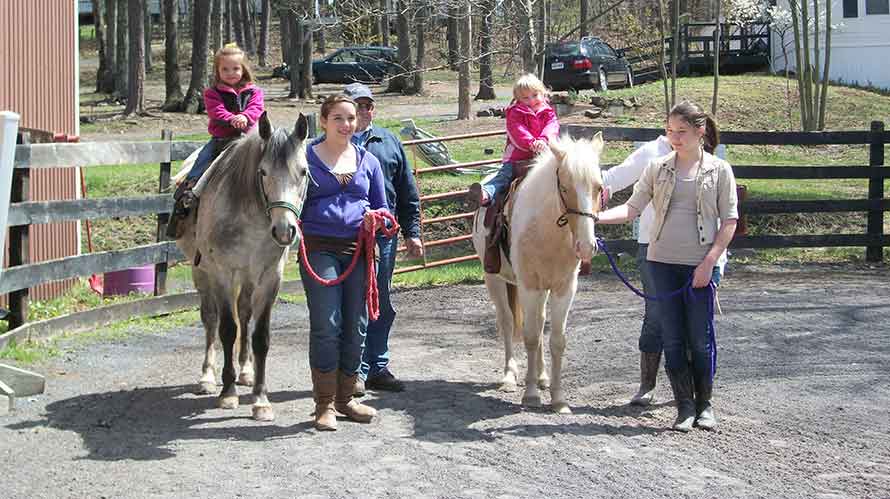 Trail Rides

Trail rides are given on our wonderful smooth gaited Tennessee Walking Horses. Drift thru our wooded trails in comfort and enjoy nature. You might even see deer and turkeys. Visit Spirit Lake for peace and tranquility. Call for an appointment. $40 per hour
Training
Training the horse is a skill that requires a lot of patience and good judgement. We train using natural horsemanship methods. These methods produce sane, safe and enjoyable horses. It is important that the training lessons are interesting and fun for the horse as well as his prospective rider. There will be parts of the training that the owner can participate in and this will give the owner and horse a better foundation for their future together.
If you want help with your babies then our training will be offered starting at the level of basic baby manners. This means a young horse from weanling age up to the age where it will be old enough to be trained to be ridden. When horses are properly handled and taught the basics at a young age they are much easier to teach when it is time to start riding them.
This saves both time and money in the long run. At the young ages they can learn all about the big scary world and become more emotionally mature. We use fun methods that allow them to become familiar with strange objects, sights and sounds. They will learn to load on a trailer, accept tack, be bathed, stay in a stall and most anything else you can think of. The training will begin in the round pen and progress until the horse is safe to be ridden on the trails, around vehicles dogs, through water, etc.
Boarding
Field boarding with shelter consists of over 30 acres divided into separate fields for rotation and parasite control. Hay is provided when no grass is available. Horses are placed on the farm Deworming Schedule.

$250 month - grain is extra
Requirements
All horses coming to the farm must have a current Coggins. It will be the owners responsibility to keep horses up to date on farrier and vet work. The farm does have a farrier and vet that we can recommend and set up appointments with, but the owner must make payment arrangements with the farm. Anyone wishing to ride a horse or be in a horse area must sign a waiver. All payments for services must be made in advance.
Sorry We Do Not Accept Credit Cards.
For questions or to make an appointment call:
Bev Foltz
540-336-4267
151 Magic Mountain Road Winchester, VA 22602